UN COMÉDIEN SANS PARADOXE  (An actor without paradox) (1974) (35mm, 14 min)
César Award for Best Animated Short Film
Diderot's aphorism is a pretext for a mini one-man show.
During a show in which he assumes all the roles (Harlequin, Pierrot, the green man, Humphrey Bogart, etc.)
An actor, while going from the dressing room to the stage, meditates on Diderot's maxim :
"If the actor is himself when he plays, when will he stop being himself?"
 Producer: Roger Leenhardt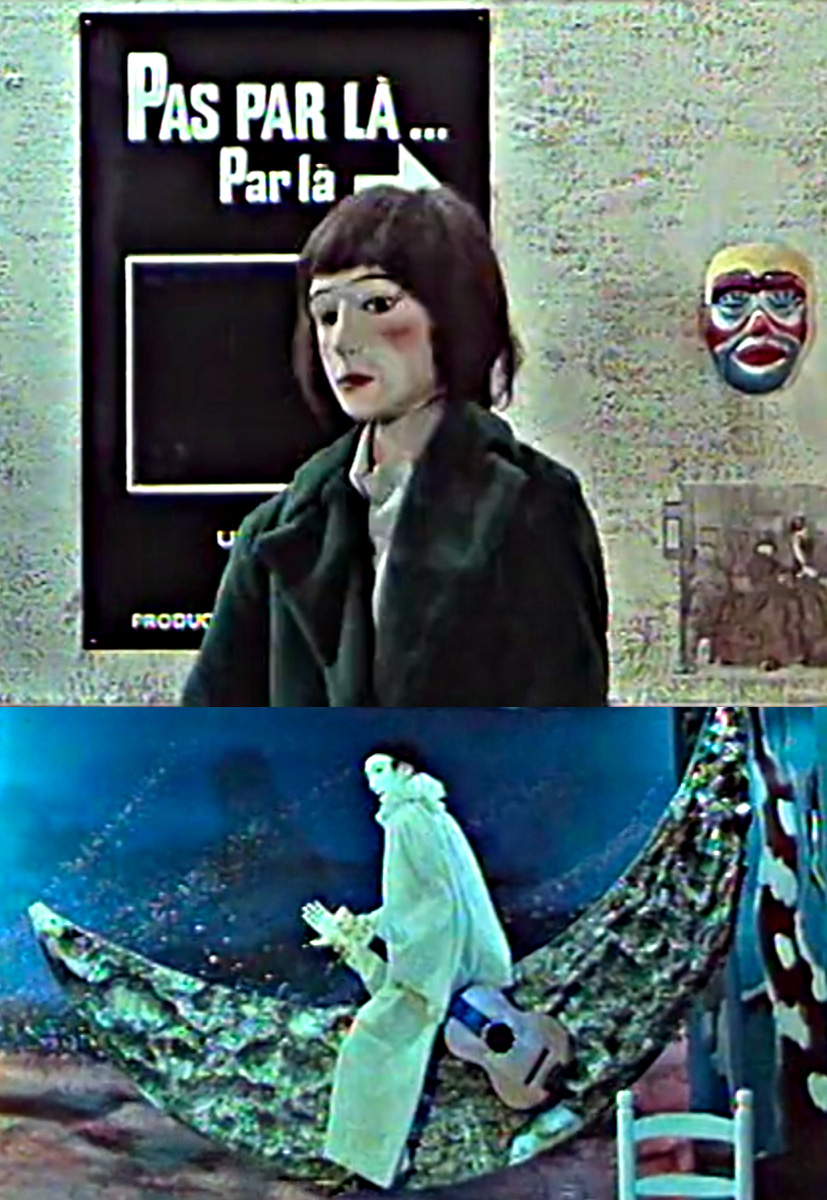 LES MÉMOIRES DE DON QUICHOTTE (The memoirs of Don Quixote) (1977-1981)
Unfinished Musical
Music by Claude Nougaro and Romain Didier
"It was a great project. A musical contains all of the finest of human expression. Between song, dance and drama, it is the mask and the movement that are the conductors. The expression of our face is concentrated and ultimately depends on only two moving parts whose combinations affect us directly: the forehead and the mouth.  The forehead, with its vertical and horizontal lines, its field of wrinkles, covers the eyes with its signals. Pain, joy, gravity or humor depend on its signs also inscribed in the blinking of the eyelids and the movement of the eyes.  With the mouth and the lips, it is another type of variation which poses first the word and finally all our grimaces.
From these data, it became fascinating to make a talking and expressive mask for a homunculus actor, or more simply a kind of puppet since there are all kinds.  Thirty removable mouths for phonemes and grimaces as well as fronts governing the opening of the eyelids allowed, by combining all forms of expression. It was then that, filmed frame by frame, we could see this inert character come to life. The puppet, still motionless during filming, and how heavily real, imperceptibly was going to enter into the full unreality of cinematic reality.  Movement in cinema obeys combined effects. The motionless horse, Rossinante, who carries Don Quixote charging windmills or giants, only runs at full gallop through the planes that move around him. Thus, the scale of these small characters could allow everything. We could have seen Don Quixote equal Fred Astaire in a game of tap dance with light and short-dressed Dulcinea… Or still singing, pompous or terrible, black belt in judo, undermining three muleteers. And what about the titanic fight with "the knight of the full moon", in front of a raging sea!  Only here it is, two years of filming for the twenty-five minutes that we are going to see… It was a great project!" R. Lapoujade
The puppets: the Comedian, Don Quixote, Cervantes, the Niece, Sancho and various accessories (expression boxes, moulds, etc.) have been deposited at the Museum-Château of Annecy, Animation Department. (2018)
Sancho, the different mouths, chins and foreheads are changed according to the dialogues and the songs in order to have synchronization.